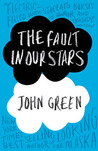 The Fault in Our Stars
by
John Green
My rating:
5 of 5 stars
"It would be a privilege to have my heart broken by you."
I'm supposed to be finalizing a research paper, and procrastination rocks. I read this book more than a year ago and should have told the world what I think before now. I read the entire thing in one evening and the following day, and when I closed the back cover, I immediately turned it over, opened it at the beginning, and read it again. It is simply that freaking good. I will never see the movie, because it would inevitably be a huge letdown after such an amazing book.
I also like the rumor that this is a NaNoWriMo novel. I don't know if that's true, but I love this book and I love NaNoWriMo, so it's a happy rumor for me.
View all my reviews